Top 10 Of The World's Most Popular Gay Districts
Across the world, homosexuals are often persecuted for their sexual orientation. As a result, large populations of gay people have formed communities that support them.
In its most basic definition, a "gay district" or "gay village" is a place where a large number of gay people live and hang out. Gay districts, which are often located in major cities, are highlighted by their many gay-friendly businesses, including bars, bookstores, boutiques, and restaurants.
Often, the pride flag (aka rainbow flag) can be seen proudly on display in these establishments. In fact, Pride Month 2020 is happening right now. Pride Month occurs in June each year because the Stonewall riots in June 1969 ignited the gay rights movement around the world.
On June 28, 1969, New York City police raided the Stonewall Inn, a Greenwich Village gay club. Patrons and employees of the club fought back when police physically harassed or arrested them. The confrontation became violent, leading to a riot and days of protests. The following year at the first US gay pride parade, participants chanted, "Say it loud, gay is proud."
Many of today's gay districts were originally sections of cities that had fallen into squalor. As large populations of the ostracized gay community moved to these areas, they gradually became more attractive. Over time, these portions of the cities often became the most fashionable and expensive. Here are 10 of the world's most popular gay districts.
10 Enlightening Facts About Gay And Trans People
10

The Castro
San Francisco, US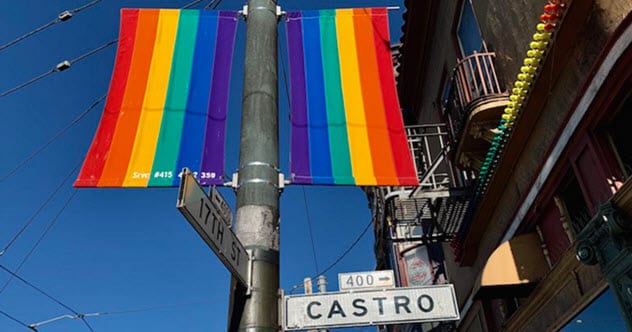 The Castro, a neighborhood in San Francisco, California, was one of the first gay districts in the US. It is also one of the largest in the country. Although most of the gay community in the area lives in the Castro, some reside in surrounding neighborhoods like Haight-Ashbury, which played a large role in the formation of the 1960s hippie movement.
During World War II, the US military dropped off thousands of gay servicemen in San Francisco. These men gathered in the Castro neighborhood, named after Jose Castro, a leader of the Mexican opposition to US rule after Monterey and San Francisco were taken by US forces in the 19th century.
Jose Castro's life and resistance to oppressive rule parallels that of Harvey Milk, one of the Castro's most famous residents. In the early 1970s, Milk opened Castro Camera in the district and began a movement as a prominent gay activist. Sadly, on November 27, 1978, fellow politician Dan White assassinated Milk. This popularized the now-infamous legal defense called the "Twinkie Defense."[1]
9

Old Compton Street/Soho
London, England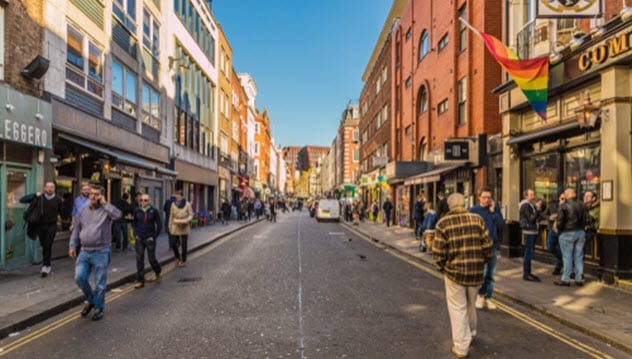 Soho, named after an old English hunting cry, is located in Westminster in the West End of London. On Old Compton Street in Soho, dozens of businesses survive on the "pink pound," which is the purchasing power of the gay community.
Tragically, a horrific event occurred at the Admiral Duncan pub in the heart of the Soho gay district on April 30, 1999. Neo-Nazi David Copeland planted a nail bomb inside the pub that left three dead and 70 injured. Copeland hoped to stir up racial and homophobic tensions.
However, his plan backfired. The gay and straight communities came together in support. After the attacks, the Metro Police commission set up a crime scene van to take witness testimony. The van was entirely staffed by gay officers. This event became a turning point for what had been a tense relationship between the gay community and the police.[2]
8

Nollendorfplatz
Berlin, Germany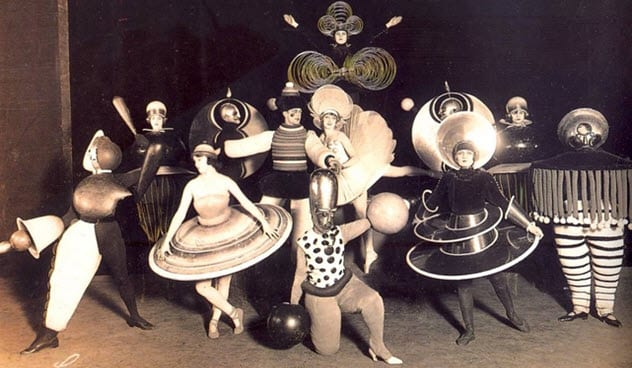 Nollendorfplatz is a fascinating study when one realizes its proximity to the Nazi regime. Before Adolf Hitler rose to power, Nollendorfplatz had theaters and clubs that catered to the gay community. The Nazis attempted to eliminate all evidence of this subculture by closing and destroying many of the district's most popular hangouts.
After World War II, the area south of Nollendorfplatz reprised its role as Berlin's gay mecca and continues to be a major gay nightlife hub today. A small memorial plaque, known as the "Pink Triangle," sits near the south entrance of the Nollendorfplatz U-Bahn station. The plaque's unique color and shape commemorate all the homosexual victims of the Nazi regime who were forced to identify themselves by sporting a pink triangle.[3]
7

Church And Wellesley
Toronto, Canada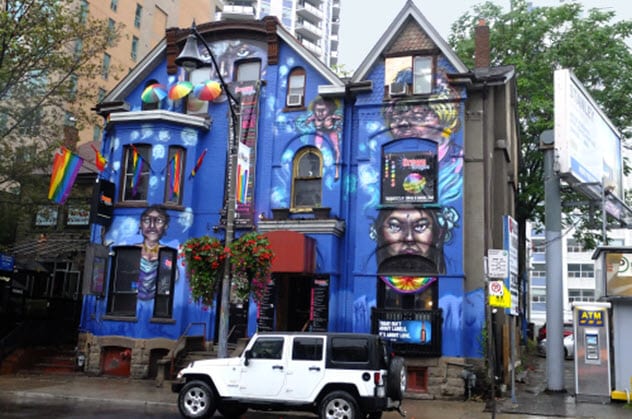 Named after the two main streets that intersect in the middle of the neighborhood, Church and Wellesley is one of Canada's largest gay neighborhoods. The area was prominently put on the map of Toronto's gay community after the events of the 1981 Toronto bathhouse raids.
On February 5, 1981, Metropolitan Toronto Police's "Operation Soap" targeted four popular gay bathhouses, seeking to silence and put out of business these establishments. On that day, approximately 150 police officers arrested 300 innocent men, destroying the bathhouses in the process.
In the months following the raids, Canada's gay and straight communities banded together to protest what they saw as the evolution of Canada's "police state." In Toronto's Cawthra Park, the AIDS Memorial holds the names of community members who died of AIDS. The names are etched in bronze and forever remembered as pioneers.[4]
6

Le Marais
Paris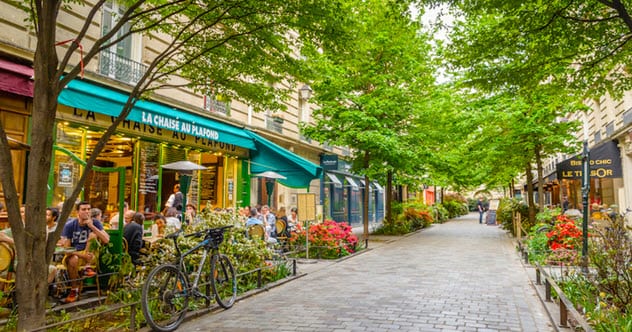 Le Marais is an emerging gay district in Paris, France. Also known for its large Jewish population, Le Marais is replete with notable architecture and trendy boutiques, all meant to be discovered in a maze of narrow cobblestone streets.
Paris was one of the first capital cities to elect an openly gay mayor. In office from 2001 to 2014, Bertrand Delanoe championed an increase in quality of life for all Parisians while criticizing Pope Benedict XVI's comments about the ineffectiveness of condoms in reducing the spread of AIDS.[5]
10 Gay Myths From Antiquity
5

Oxford Street
Sydney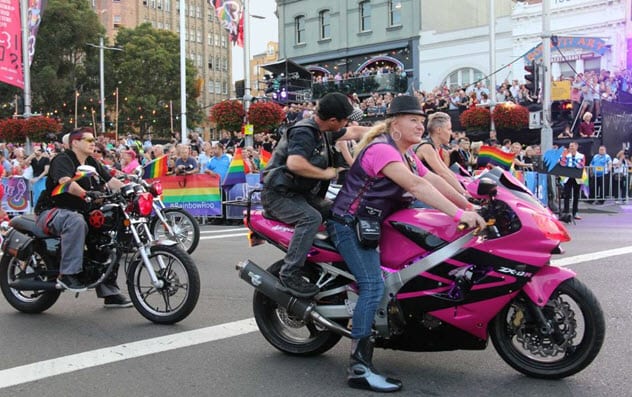 Whereas Le Marais continues to grow as a gay district, Oxford Street in Sydney, Australia, is becoming more "straight," much to the displeasure of the gay community who once frequented it nearly exclusively. Now, straight bars outnumber gay bars. A few nightclubs even sponsor popular wet T-shirt contests.
Many heterosexual individuals find the gay bars to be a nice change of scenery. Although this increase in visitors has brought more business, it has also spawned negative headlines. Today, Oxford Street has seen a rise in crime, specifically aggression toward the gay community.
Not everything is dire on the street that runs through Darlinghurst, however. Every year in early March, the streets are closed to traffic so that the world-famous Sydney Gay and Lesbian Mardi Gras, one of Australia's largest tourist draws, can be celebrated by hundreds of thousands of people from around the world.[6]
4

Ni-chome
Tokyo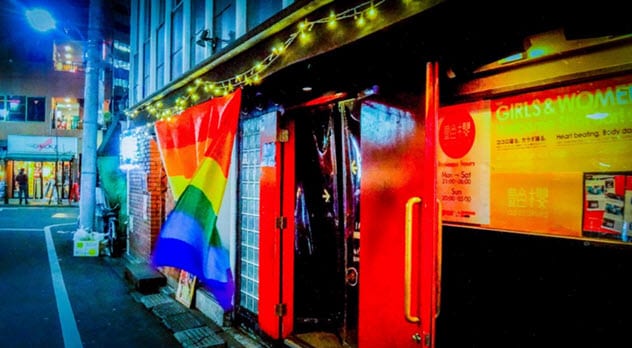 Ni-chome has the world's highest concentration of gay bars, with approximately 150 bars and nightclubs densely housed together. In a country where a person's private life is highly prized, most nightclubs are small, holding no more than a couple dozen people.
Marriage is valued in the Japanese culture, which leads many closeted men to marry women and then visit Ni-chome when the nightlife comes alive. Ni-chome's gay subculture began to emerge after the Prostitution Prevention Law of 1956 made prostitution illegal.
Many of the bars in Ni-chome cater to specialized interests, including the bear community, BDSM, or younger men. Oddly enough, dancing is prohibited at some of these nightclubs. One of the more popular and larger clubs is "Arty Farty," which elicits a snicker from those of us who are still immature at heart.[7]
3

Amberes Street
Zona Rosa, Mexico City
Since the 1990s, Zona Rosa, particularly Amberes Street, has become the most popular gay neighborhood in Mexico City. One of three areas in the city where gay bars operate, Zona Rosa is the largest with over 200 businesses spread over 16 blocks.[8]
Walking the sidewalks, one will encounter many gay couples openly holding hands and being affectionate in public. Zona Rosa and its gay community still face controversy, however.
A few government officials and advocacy groups claim that minors are often prostituted on Amberes Street. Locals refute these claims. They say that those who are antigay are exaggerating the problem so that the gay community will move elsewhere.
Though the truth probably lies somewhere in the middle, many young men and women flock to Zona Rosa to escape the pressures of the machismo culture that surrounds them in Mexico.
2

Barrio de Chueca
Madrid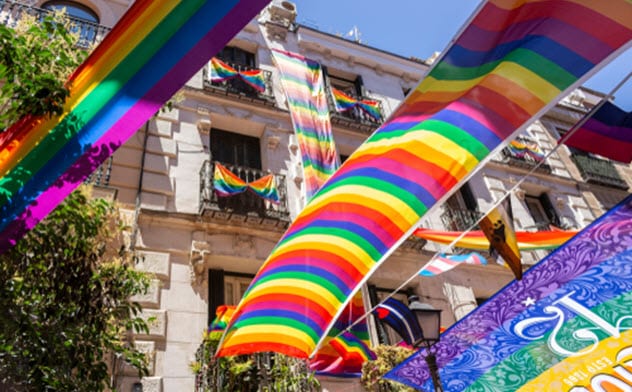 The Chueca quarter lies in the middle of Madrid. It is an avant-garde community that prides itself on its tolerance and open-mindedness. Here, intellectuals and artists gather during the day for a cup of coffee and conversation and at night to dance and drink.
Famous for its annual Gay Pride Parade in late June, Chueca is celebrated for successfully hosting Europride in 2007, a popular event that welcomed over 2.5 million visitors. Based off this experience, WorldPride named Madrid host of its celebration in 2017, where sporting and artistic events celebrated gay culture.[9]
Madrid as a whole is also known for being one of the first major cities to accept gay marriage.
1

Farme de Amoedo
Rio de Janeiro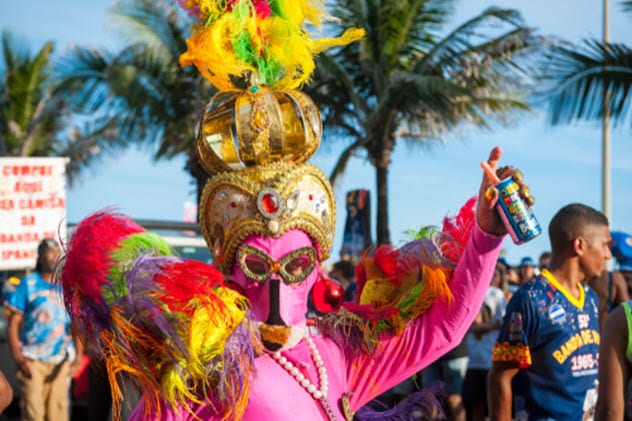 A famous street in the Ipanema district of Rio de Janeiro, Farme de Amoedo Street is Brazil's place to be. In fact, the gay beaches of Ipanema have been voted the best gay beaches in the world. The area is affectionately nicknamed "Barbie Land" for the muscular men who populate the sidewalks.
Rio Carnival is celebrated throughout the city. The most popular Carnival event for the gay crowd is the Banda de Ipanema street parade. First celebrated in 1965, Banda de Ipanema was declared part of Rio's cultural heritage in 2004. Along with a marching band playing local music, another highlight of the parade is the many drag queens in elaborate costumes walking up and down the parade route.[10]
10 Historical Figures Who May Have Been Gayer Than You Think
About The Author: A. Greazy currently lives in the vibrant city of Nashville, Tennessee. He enjoys writing, baseball, and licking nacho cheese off his fingers. You can contact him with any questions, comments, or inquiries at [email protected].
We Publish Lists By Our Readers! Submit Here . . .